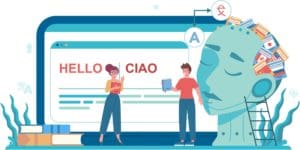 People often use the terms "translator" and "interpreter" interchangeably, and while they share many similarities, the skills, experience, and expectations of both are different.
Translators and interpreters are masters of multiple languages.  Both are trained to understand the linguistic nuances and cultural differences of the languages and their representative countries.  Additionally, highly qualified professionals will have a strong background in the type of work they do.  For example, interpreters helping asylum seekers will have training in medical and psychological matters; and translators have experience with source documents from neighboring countries and U.S. immigration procedures.
An interpreter converts oral language (messages and conversations) from the source language to the target language.  These professionals are trained to listen to the words and sentences spoken and make rapid decisions about the message's closest verbal translation into the target language.  Along with words, an interpreter shares facial expressions and physical gestures to explain further and amplify the message.  Often interpreters are used in active two-way communication, which provides one significant advantage:  if the translated message is confusing or doesn't seem to align with the situation, the person using the target language can ask for clarification.
On the other hand, translators work with written documentation.  Typically a translator receives written materials in one language and is asked to convert them to the target language by a deadline.  Many documents are used for official purposes, such as health records, academic records, evidence for court proceedings, immigration paperwork, and financial records.  Because translators usually work in isolation of the parties involved, they have less opportunity to clarify sections of the work that may be confusing. Still, this situation affords them additional time to research questions to ensure the final translation is accurate.
Another distinction of translators, in particular, is the critical nature of their work.  Because many of the documents translators work with are for official purposes, translations must be 100% accurate.  Errors can result in significant ramifications such as an immigrant incorrectly denied citizenship, a bank fined for inaccurate financial statements, and a student not admitted to school abroad.
Do you need a translator or an interpreter?
It's important to know what type of service you need to ensure your work is completed by the most highly qualified professional.
| | | |
| --- | --- | --- |
| | Translator | Interpreter |
| The work requires real-time translation of verbal communication between two or more individuals. | | X |
| The work requires translation of written documentation. | X | |
| The work will be conducted "live" via in-person conversation, testimony, or video-based technology. | | X |
| Work can be completed in isolation from the individuals involved in the transaction. | X | |
| 100% accuracy is critical to the job. | X | |
Do you need a qualified translator?
When you have important documents requiring translation, contract the professionals at The Perfect Translation.  All of our translations are performed by experienced linguists holding a variety of certifications and degrees in a wide range of fields.  We have the expertise to provide you with accurate translation services for all document types associated with industries such as immigration, business, real estate, financial, academic, legal, and medical.  Contact us today for a free quote!