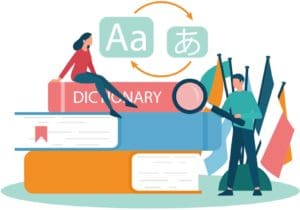 We are proud to provide certified and notarized document translation services for all document types associated with industries such as immigration, business, real estate, financial, academic, legal, and medical.
All of our translations are performed by pedigreed linguists holding a variety of certifications and degrees. Our translations include basic formatting that replicates as closely as possible the original layout of your source document. We also offer optional expedited turnaround and hard copy printing and shipping.
Certified Translation
Certified translations are required by the U.S. Citizenship and Immigration Services (USCIS), university and high school application and enrollment, and many other local, state, and federal government official uses. A certified translation is a translated document accompanied by a statement signed by the translator attesting to his or her linguistic competence and that the translation is complete and accurate. We offer a 100% acceptance guarantee that our certified translations will be accepted upon submission to the USCIS.
Authentication of Translated Materials
If your jurisdiction's rules of evidence or local rules require translated documents, audio files and video files to be authenticated by live, in court testimony, our linguists are available upon request to testify as to their experience and qualifications as translators.