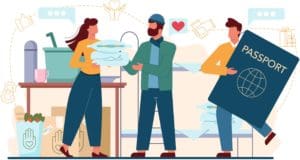 As of March 1, the United Nations reported that 660,000 Ukrainian refugees have successfully escaped into Poland, Hungary, Romania, Moldova, and other countries since the Russians began their invasion into Ukraine less than a week ago.  Most of these people were only to take a few items with them and will be building a life from scratch in a foreign country, many without the assistance of friends and family.
While most of these refugees will remain overseas and be assisted by European countries belonging to NATO, the need for refugee translation services will surely overrun the supply of translators and interpreters abroad.  It is likely part of the humanitarian assistance Ukrainian refugees will need are legal translation services by qualified experts.
What languages do Ukrainians speak?
The history of Ukraine has resulted in an interesting blend of language usage among its citizens.  Ukraine was formerly part of the Soviet Union until the U.S.S.R. unraveled in 1990-1991.  On August 24, 1991, Ukraine declared its full independence.
Ukrainians initially spoke their own language, Ukrainian or also called Ruthenian.  Ukrainian is a variant of the Cyrillic script, with its history tracing back to Old East Slavic of the early medieval state of Kievan.
When Ukraine fell to Soviet rule in 1919, the country's official language changed to Russian.  Russian is also a Cyrillic language and shares the same alphabet with just a few exceptions.  However, while they use the same letters, the two languages are not mutually intelligible.  Most Ukrainians kept their native language while also taking on Russian–becoming fluent in both languages.
When Ukraine regained its independence in 1991, the national language once again became Ukrainian.  However, fluency in Russian remained a requirement for most jobs.  As a result, most Ukrainians are bilingual.  Ukrainian Russian is well understood by native Russian speakers, with just a few differences in accents, much like regional differences in English throughout the United States.
There are some exceptions to the rule, however.  There are significant minority populations in Ukraine, including Hungarians, Romanians, and Crimean Tatars.  While Romanian is a Latin-based language, Hungarians speak Magyar–one of the most complex languages to learn with Asian origins, and Crimean Tatars use a Cyrillic-based language.
Legal translation services are forecasted to be in short supply.
Currently, most operations within the country are on hold as residents are fleeing or fighting.  Internal translation services have been decimated.  Additionally, Ukrainians have relied on Russian services for Russian-based translations, and those connections have all been terminated.
Refugees in NATO countries will need translators and interpreters to help identify themselves, connect to friends and families worldwide, and re-establish their personal identification.  Just as refugees must do in the United States, these individuals will need to be able to share their stories so applications can be accepted and new identifications and citizenship can be obtained.
Undoubtedly, there are many Ukrainian refugees with families in the United States, and they will be applying to gain entry into our country and have shelter with them.
The Perfect Translation can help with complex legal translation issues, including refugee translation paperwork.
Professional translation services for hopeful refugees are critical.  Many times individuals seeking asylum have little or no English language skills.  Individuals may require translated forms to their native language to make it easier for them to complete, and then these forms must be translated back to English for submission.  All of the documents must be translated to English for processing, too.  A trained translator with expertise in immigration must complete the work to ensure the translations are accurate and are completed to USCIS expectations to minimize delays from incomplete or incorrect submissions.
Our team at The Perfect Translation includes certified translators with expertise in the immigration process through the USCIS.  Our translations include a statement signed by the translator attesting to their linguistic competence that the translation is complete and accurate.  We offer a 100% acceptance guarantee that our certified translations will be accepted upon submission to the USCIS.  If you will be working with individuals and families seeking refugee status in the U.S., contact The Perfect Translation today and learn how we can help throughout the process.