Conduct a little research online about translation services for legal documents such as international contracts, and you're likely to find advice about the importance of working with professional linguists.  What is a linguist, and how is that different from hiring a translator?
Linguist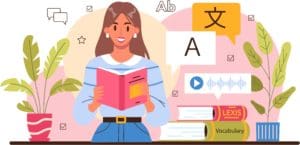 Recommendations like this are quite confusing.  A linguist, by definition, is a person who speaks several languages or a person who specializes in the academic field of linguistics.  With this definition in place, it seems like an appropriate source for converting an important document from a source to a target language would be to hire a grad student or a bilingual associate.  Unfortunately, those providing advice about selecting a professional to provide the most accurate translation are ironically not using the correct terminology within their own narratives.
Instead, it would be more accurate for these sources to say important document translations should be handled by professional translators competent in the field of work.
Professional Translator
What does it mean to be a "professional translator"?  A professional translator understands and applies academic theories to their practices—for example, the Skopos theory.  Skopos theory says the proper translation depends on the knowledge, expectations, values, and norms of the target readers influenced by their own culture and situation.  In other words, accurate translations are not necessarily word for word but translating the meaning of a term from a source language into a term that will provide the same meaning in the target language.  Professional translators consider cultural differences, grammatical conventions, idioms, terminology, and other factors that can get in the way of achieving an accurate legal translation.  This book of knowledge and experience is most likely what article authors refer to when they say "linguists."
However, a professional translator is very different from simply a bilingual person, which goes against the first definition of a linguist.  A person who speaks more than one language may be able to piece together how to convert something written in one language to another, but depending on their knowledge and experience, may miss many of the critical nuances a professional translator is trained to catch.  A professional translator will also refrain from adding supplementary information that could alter or void the accuracy of the work.
Experts in the Field of Work
What does it mean to be competent in the field of work?  Simply said, the most accurate legal translations are completed by legal professionals (i.e., lawyers) who specialize in the type of work–contract law, financial disclosures, medical records, immigration paperwork, etc.  With this background and expertise, they can recognize differences in legal expectations of foreign countries and how translations must be prepared for acceptance and understanding.
For the most accurate legal translations, choose The Perfect Translation.
At The Perfect Translation, we only use real, live human beings to perform your essential translation work.  We believe the most accurate translations are generated by professionals who have industry expertise and proficiency in the target language.
All of our translations are performed by pedigreed linguists holding various certifications and degrees.  We are proud to provide certified and notarized document translation services for all document types associated with immigration, business, real estate, financial, academic, legal, and medical industries.  Contact us today for a free quote!