Seeking healthcare services or being hospitalized is especially challenging for those who don't speak English fluently.  Understanding health records, documents, and descriptions of treatment are challenging enough for those fluent in the language, let alone for those that speak little to no English at all.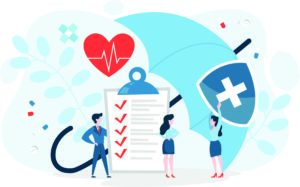 Translation requirements for healthcare documents include:
Medical research, pharmacological studies, and clinical trials
Patient records and medical exams
Informed consent forms
Patient instructions
Prescription labels, packages, and instructions for use
Healthcare laws ebb and flow with changes in the political climate.  The Affordable Care Act, passed by the Obama administration in 2010, was amended in 2016 to include important provisions protecting the rights of limited English proficient (LEP) individuals:
"Medical facilities should use qualified medical interpreters when they treat deaf and hard of hearing patients and those who have limited English proficiency."
"LEP patients can sue healthcare providers who do not provide language access programs."
These provisions were both included within Section 1557 as part of the Non-Discrimination Requirement of the Act, designed to build on Title VI and Executive Order 13166 to extend non-discrimination requirements to any health program or activity receiving Federal funding and Health Insurance Exchanges.
In June 2020, the Trump administration further amended the ACA relaxing requirements in several areas impacting translation requirements for healthcare:
The amended rule reduces standards governing access to interpretation and translation services for LEP individuals.  The new law relaxes the 2016 amendment from requiring meaningful access to "each individual with LEP eligibility to be served or likely to be encountered" to providing meaningful access to "limited English proficient individuals" in general.  The Department of Health and Human Services doesn't feel the amendments eliminate the requirement for services, but rather that the definition of who must receive the services better aligns with LEP guidance already in place within other HHS programs.
Initially, an organization was required to measure the importance of the health care program and the criticality of the communication to decide if language access services must be provided.  Now, health care professionals are allowed to consider the number of LEP patients served by the entity, the common non-English languages spoken, and the associated translation costs to determine when the services will be provided.  Again, HHS feels this change aligns ACA requirements with other programs managed by HHS and will strike a balance between ensuring access for LEP individuals while not burdening businesses with excessive costs.
The amendment removed the requirement for non-discrimination notices to include the availability of language assistance services, including the requirement to include taglines in the top 15 languages spoken by LEP languages in the state.  HHS decided the condition created unanticipated and burdensome costs that exceeded the benefit to individuals.
What does this mean for LEP individuals?
In general, the amendments were crafted to provide healthcare providers more flexibility to use common-sense criteria in determining when, where, and for whom they must provide language access services. The law intends to protect the rights of LEP individuals who speak the most common non-English languages for the region where they are receiving services.  As such, hospitals on the West Coast may operate under different expectations than those in the Midwest.
LEP individuals will likely receive less information about their rights and may be confused about their ability to receive language access services under the amended law.  Helping communities of LEP individuals understand their rights and how to receive language access services from their medical providers is a meaningful way you can help ensure this vulnerable population receives the appropriate healthcare services they deserve.
If you or your client require accurate translation of healthcare-related documents, contact our team at The Perfect Translation today!
We are proud to provide certified and notarized document translation services for all document types associated with industries such as immigration, business, real estate, financial, academic, legal, and medical.  You'll always receive an accurate translation when you contract with The Perfect Translation.  Contact us today for a free quote!