It can seem that the United States does not manufacture many products, as it can be challenging to find items marked as "Made in the USA" on store shelves.  Yet, the United States exports a considerable amount of products, and at the top of the list is food, beverage, and feed at about $133 billion annually.  The most significant contributor in this category is soybeans.  There's little competition in regards to where these soybeans are shipped.  In 2019, 22.58 million metric tons of this crop were sold to China, and the second place went to Mexico at 5.15 million metric tons.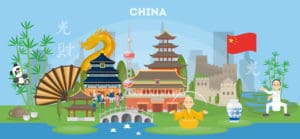 Our international import/export relationships with China don't stop at soybeans, though.  A closer look at the trade relationship with China reveals that China is the United States' largest merchandise trading partner.  While China is our biggest source for imported products, China is also our overall third-largest export market.  According to the Congressional Research Service, "Many U.S. firms view participation in China's market as critical to their global competitiveness."
Business opportunities with China are sure to grow in the future.  However, the cultural norms of Chinese businesspeople and their expectations about contractual relationships are different from those of the United States in many ways.  To be successful, it's important to be aware of these differences and use professional translation expertise for contracts to help you navigate the legal distinctions and break through any language barriers.
Here are three key differences to be aware of when establishing a contractual relationship with a Chinese business:
Politics.  In the United States, we subscribe to a Federalist system of government.  Each level, from the Federal government to our local municipalities, has areas within their purview and sometimes have authority to overrule each other.  For the most part, business law is consistent across our states, and at the very least, it's at least transparent and widely understood.  In China, the highest level of government controls everything, and local governments are expected to implement those decisions.  Yet, U.S. businesspeople may find that not all areas of China adhere to national law consistently.  In fact, it's not unusual for those at the local level to decide which rules and regulations created by the central government to abide by.
Participation of the Government in Business Dealings.  Unlike the United States, China has had a long history of communism in which the government-owned all businesses.  While this is no longer the case, the government often continues to play a significant role in business management.  Some of this may be seen in cascading layers of regulations and bureaucratic requirements, while in other cases, U.S. businesspeople may encounter Chinese executives who are accustomed to leaning on solid relationships with government officials to achieve their objectives.
Maturing Judicial System.  The civil legal system in China is still relatively new.  While they've come a long way in installing judges to review disagreements, many judges remain inexperienced or may apply the law inconsistently.  As a result, Chinese businesspeople tend to be less concerned about the intricacies of wording and clauses in a contract.  Instead, they rely on personal respect and trust.  This cultural difference can seem very confusing to U.S. leaders and make them feel their Chinese counterparts aren't willing to adhere to contract agreements when instead, the Chinese parties may have overlooked these details in the agreement simply because they intended to meet the overall objective of the contract.
If you're doing business in China, choose The Perfect Translation for accurate translations of your legal documents.
At The Perfect Translation, we have individuals who are both fluent in Chinese languages and knowledgeable about contract laws and cultural norms in China.  The Perfect Translation uses teams of language experts who have professional experience in the legal topics you're dealing with–from patents to contracts, disclosures, and advertising materials.  Don't leave your important translation work to computerized bots or generalized linguists.  Contact us today for a free quote and learn more about what makes The Perfect Translation the best place to get accurate legal translations.