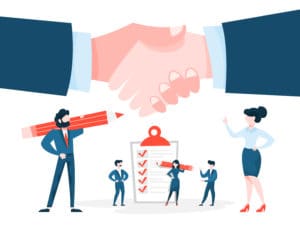 Today, there are abundant resources to translate material from one language to another. Anyone with a smartphone can access Google Translate to figure out how to order a latte, no matter which European cafe they visit. However, when it comes to legal matters, it's essential to be selective in choosing a qualified translation service partner to perform the work. The risks of inaccurate legal translations can jeopardize your company and set off a domino effect of poor consequences.
Three Common Risks of Inaccurate Legal Translations
Legal Liability
Inaccurate legal translations can create legal liability for your business. Mistranslated or omitted legal terms can change the meaning and impact of documents. In some cases, differences in legal systems between two countries may make straight translations irrelevant and unenforceable. Your company could end up with agreements that are invalid or be accused of omitting important information. The best way to mitigate your risk of legal liability is by partnering with a professional translation service staff with legal experience and language fluency.
Loss of Reputation
Businesses work diligently for years to build a positive reputation with their customers. Inaccurate legal translations can destroy that work in a fraction of the time. It's one thing to have a chuckle when KFC's tagline, "finger lickin' good," ends up meaning "eat your fingers off" when their marketing team poorly translated it for their marketing overseas, but poor translations can have a worse effect than just a laugh. Potential customers see these mistakes as unprofessional and make it look as if the business didn't take the time to understand the culture before moving in. More significant errors can be disrespectful to other parties, particularly in court matters or contract negotiations.
Decline in Revenue
Confusion and disruption caused by translation errors in documents like purchase contracts, marketing materials, terms of service, and other agreements will eventually lead to a decline in customer confidence. Potential customers that see translation errors in pamphlets or product shortages because your sales agreements cannot be enforced will choose to take their business to a competitor. These translation errors can hinder or destroy work your management group has spent years on to expand to new markets.
The Perfect Translation will help your global company achieve success.
The Perfect Translation uses teams of language experts with professional experience in the legal topics you're dealing with–from patents to contracts, disclosures, and advertising materials. Don't leave your important translation work to computerized bots or generalized linguists. Contact us today for a free quote and learn more about what makes The Perfect Translation the best place to get accurate legal translations.