Have you ever dreamed of buying a vacation home in another country? If so, there are a few considerations to work through before you pack your bags and jump on an airplane. Purchasing property abroad is exciting but comes with several challenges that you should discuss with an expert.
You'll need to obtain a temporary or permanent residency visa in most cases, and
There are many legal and financial issues to consider with foreign property investments.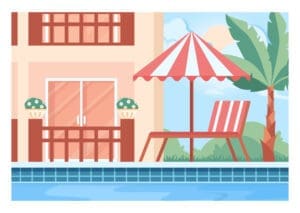 Obtaining a Visa
Getting a visa to live in your vacation home abroad can vary depending on the specific country's laws and regulations. Depending on how long you plan to spend in your home abroad each year, you may need to obtain temporary or permanent residency. In many cases, you have to apply for a visa before traveling, either at an embassy, consulate, or online. Sometimes you can also obtain a visa on arrival. To buy property on a tourist visa, the buyer must submit a few extra documents that may establish the identity and intent of the buyer. Doing thorough research and consulting with professionals before making any decisions is recommended.
Favorable Countries to Choose for Purchasing a Home and Obtaining a Visa
When choosing a country to purchase a vacation home, it's important to consider the visa requirements and the ease of obtaining one. Here are some of the most favorable countries for Americans to purchase a vacation home abroad based on your ability to get the visa you need. It's important to check for the most recent information regarding current requirements with the country's official website, as programs, requirements, and details are subject to change.
Mexico
Mexico remains a popular destination for both tourism and retirement among Canadians and Americans. It's also enjoying good growth in the local tourism market. There are some details of the law you'll need to consider. For example, as a foreigner, you're not allowed to buy real estate within 62 miles of an international border or 31 miles of the coast. However, it's fairly straightforward to obtain a visa in Mexico.
Portugal
Portugal is considered one of the top places for buying vacation property. It has a Golden Visa program that allows non-EU citizens to
obtain residency in Portugal
by investing in real estate. Although the rules are constantly changing, the minimum investment is €500,000 (about $538K as of June 2023), and the visa is valid for five years.
Barbados
Barbados is one of the best countries to buy a vacation home. It offers a special visa for non-nationals who own property over a defined value in Barbados. There are also multiple ways to stay in Barbados on a seasonal basis that often fits the needs of vacation homeowners well.
Anguilla
Anguilla is another great country to buy a vacation home. It offers a residency-by-investment program that requires a minimum investment of $750,000 in real estate. The visa is valid for up to five years and allows multiple entries into the country.
Croatia
Croatia is one of the best places to buy a vacation home. It offers a temporary residence permit for non-EU citizens who own real estate in Croatia. The permit is valid for up to one year and can be renewed annually.
Other Considerations for Purchasing Property Abroad:
Purchasing vacation property abroad can be an exciting investment, but it's important to consider several key considerations before making any decisions. Here are some of the key considerations people should have when considering purchasing vacation property abroad:
Location: The location of the vacation property is one of the most important considerations. It's important to choose a location that you enjoy and has the potential for rental income. Some of the best countries to own vacation property include Mexico, Portugal, Barbados, and the Dominican Republic.
Purpose: Always consider the purpose of the vacation property when choosing a location. Is it for personal use or rental income? For rental income, choosing a location with a robust rental market and working with a local property management company is essential.
Financing: Financing a vacation property abroad can be more challenging than financing a property in your home country. It's important to research the financing options and work with a local lender who understands the local market.
Taxes: Understanding the tax implications of owning a vacation property abroad is important. Some countries have higher property taxes or require non-residents to pay additional taxes.
Maintenance: Maintaining a vacation property abroad can be more challenging than maintaining a property in your home country. It's important to work with a local property management company to ensure that the property is well-maintained and to address any issues that may arise.
Legal Considerations: Understanding the legal considerations of owning a vacation property abroad is essential. Some countries restrict foreign ownership or require non-residents to obtain a special permit to own property.
Cultural Differences: Take time to understand the cultural differences of the country where you hope to purchase a vacation property. This includes understanding the local customs, language, and laws.
Resale Value: It's essential to consider the resale value of the vacation property. Some locations may have a strong resale market, while others may not.
When you're ready to purchase property abroad or just need to apply for a visa, choose The Perfect Translation to help you with your documentation.
If you're hoping to stay in another country for a substantial amount of time, give us a call to learn how we can help. Our team at The Perfect Translation will partner with you to provide the best service to your clients seeking temporary or permanent residency abroad. We have specialists with experience in immigration, emigration, and expatriation. Your clients can rest assured their work will be accurately translated the first time to make the application process as smooth as possible. Contact us today for a free quote.