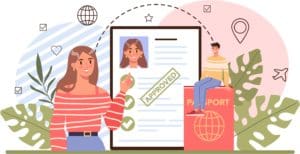 Today's news is filled with stories about Afghan's fleeing their country–some because of their history of assisting the United States with translation and other work, others because they fear a future governed by the Taliban and the discrimination, abuses, and killings that may come with it.  As a result, thousands of Afghani people will be seeking asylum in other countries.  Canada is planning to accept up to 20,000 Afghan refugees, and the U.S. Department of Defense is preparing to house up to 30,000 refugees on U.S. Military bases in the days ahead.
Many people fleeing Afghanistan will need translation support to prepare documents to obtain refugee status in the U.S.  The Afghanistan population is diverse, and people arriving will likely speak one of five languages:  Dari, Pashto, Uzbek, Turkmen, and Urdu.
What is the process to become a refugee?
The Refugee Processing Center (RPC) defines a refugee as:
"any person who is outside any country of such person's nationality or, in the case of a person having no nationality, is outside any country in which such person last habitually resided, and who is unable or unwilling to return to, and is unable or unwilling to avail himself or herself of the protection of, that country because of persecution or a well-founded fear of persecution on account of race, religion, nationality, membership in a particular social group, or political opinion."
RPC is operated by the U.S. Department of State Bureau of Population, Refugees, and Migration.  They will be leading the efforts to process Afghanis entering the United States and assisting them to achieve refugee status.  The entire resettlement process to the United States is a long and arduous process that can take years to complete.
A typical process for seeking asylum as a refugee in the U.S. looks like this:
Complete an initial screening appointment with the United Nations High Commissioner for Refugees (UNHCR) or the U.S. Refugee Program (USRP).  If they determine the situation seems to meet general criteria for refugee status, they connect the individual with a USCIS offer to continue the process.  For those married and/or have children under 21, the application process can include the entire family, although it may require applications for each individual.
Consult with the USCIS office.  The USCIS has an orientation program to help individuals understand the process and provides individuals with the application form and a list of required documents.
Complete the I-590.  The I-590 is the primary application form used to request refugee status.  Other forms, including the G-325C for Biographic Information and fingerprinting, must also be submitted with the I-590.
Obtain a Financial Sponsor and submit the I-34.  The U.S. requires anyone interested in coming to the States as a refugee to show proof of being able to pay for their travel and initial living expenses upon arrival.  Some immigrants can seek this help from family or friends already living in the United States, while others arrange for sponsorship through charitable groups or religious organizations.
Compile documentation.  Those seeking refugee status must be able to present documentation that proves their identity whenever possible.  This may include birth certificates, church records, student ID cards, licenses, etc.  Additionally, applicants must provide a sworn statement or other evidence that they have been persecuted or fear persecution based on religion, race, nationality, political opinion, or membership in a particular social group.  Often this includes letters or affidavits from friends, relatives, or doctors.  Documentation may consist of personal information or public communication such as newspaper articles or communication from human rights organizations.
Attend an interview with the USCIS.  All family members seeking refugee status should attend the interview.  Typically, when the USCIS contacts the applicant to schedule the consultation, they will also require a medical examination to be completed before the interview date.
Having a trusted translation partner is critical.
Professional translation services for hopeful refugees are critical.  Many times individuals seeking asylum have little or no English language skills.  Individuals may require translated forms to their native language to make it easier for them to complete, and then these forms must be translated back to English for submission.  All of the documents must be translated to English for processing, too.  A trained translator with expertise in immigration must complete the work to ensure the translations are accurate and are completed to USCIS expectations to minimize delays from incomplete or incorrect submissions.
Our team at The Perfect Translation includes certified translators with expertise in the immigration process through the USCIS.  Our translations include a statement signed by the translator attesting to their linguistic competence that the translation is complete and accurate.  We offer a 100% acceptance guarantee that our certified translations will be accepted upon submission to the USCIS.  If you will be working with individuals and families seeking refugee status in the U.S., contact The Perfect Translation today and learn how we can help throughout the process.