The advent of technology has made the world seem smaller.  With the ability to instantly and affordably communicate with business partners and customers worldwide, many companies expand their markets overseas.  Going global seems less daunting for tech start-ups since there's no need to ship physical materials or inventory–software can be transmitted electronically or services provided within the cloud.  One of the most important steps any company planning to go global should take is developing a translation strategy focused on global CX.
Global CX, or customer service across borders, will make or break a new entrant into the international market.  Developing a solid customer base begins with growing a trusted relationship with consumers, and that is extremely difficult to do if the customers you're targeting don't speak your language.  CSA Research has conducted three intense studies of international purchasing behavior since 2006, and their findings continue to back up one simple conclusion that they term, "Can't Read, Won't Buy."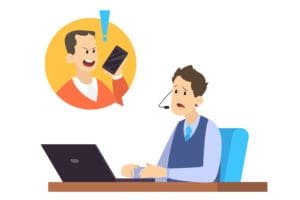 What does "Can't Read, Won't Buy" tell us?  Here are a few stats from their 2020 survey:
65% of respondents prefer content in their own language.
73% want product reviews in their native language.
40% will not buy the product if the information is not provided in their native language.
From these results, it's easy to see how crucial accurate translation is to achieving business success in a foreign country.
Where should a business start?
Once a company has decided it wants to expand into a foreign country and has completed its legal, due diligence, the first operational step is to develop a translation strategy around customer service.  Yes, translating business and product information into a target language requires attention to legal and compliance parameters, language barriers, and even tax codes; however, the importance of quality translation for the specific purpose of building trust with the customer is paramount.  A professional legal translation partner with business experience in the foreign country will be best suited to help develop a plan to translate your materials accurately and effectively to the target language, including localization.
Hows does localization impact global CX?
A professional translator with international business experience will help you manage localization.  Localization includes differences in how a product is described or marketed to an audience that will make it more compelling or interesting based on cultural differences–or avoid disaster.  It takes into account cultural norms, beliefs, and even slang terms.
There are many examples where a company did not correctly localize its marketing material.  For example, when the Swedish company, Electrolux, published an advertisement in a United States magazine with the heading "Nothing Sucks Like an Electrolux," everyday American slang created more giggles than purchasing commitments.
On the other hand, Coca-Cola is one of the best examples of localization, and their work has gained them consumer trust and sales in countries around the world.  For example, when Coca-Cola recently created a "Share a coke with.." campaign and printed first names on cans and bottles of their soda, they used popular names in each country where the soda was sold.  However, because Chinese citizens find using first names disrespectful in most situations, Coca-Cola used different terms like "classmate" and "close friend" when they brought the campaign there.
If you're considering expanding your business over the border, contact The Perfect Translation.
At The Perfect Translation, our professional translators will work with your company to define a translation strategy to achieve global CX.  Our translators combine language fluency with international business experience to provide you with the most accurate and effective translations to achieve your goals.
All of our translations are performed by pedigreed linguists holding a variety of certifications and degrees.  We are proud to provide certified and notarized document translation services for all document types associated with immigration, business, real estate, financial, academic, legal, and medical industries.  Contact us today for a free quote!