With the rise of technology and globalization, dating people from other countries has become increasingly popular in recent years. Social media, online dating apps, and video conferencing platforms have made it easier than ever to connect with people from all over the world. Technology has made communication easier and facilitated cross-cultural exchange, allowing people to learn about and appreciate different cultures. This has created a growing interest in dating people from other countries, as it offers the opportunity to explore different perspectives, lifestyles, and traditions. In addition, dating people from other countries can be a way to escape the homogeneity of one's local dating scene and expand one's horizons. This trend is particularly prevalent among younger generations, who are more comfortable with technology and have a more global outlook. Yet, continuing a long-term relationship and transitioning from dating to marrying a person from another country has many complications.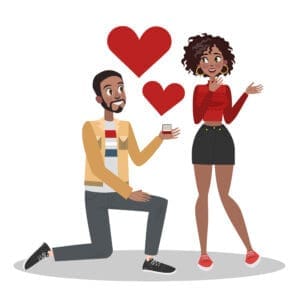 If you're dating someone from another country and planning to get married so your partner can become a U.S. citizen, there are several things you need to know before moving forward. The process of obtaining a marriage-based green card can be lengthy, complex, and expensive, so it's important to be well-informed and prepared for what's to come. Here are seven key considerations about marrying a person from another country:
1. Understand the eligibility requirements
Marrying a person from another country does not automatically make your partner eligible for U.S. citizenship. To be eligible for a marriage-based green card, you and your partner must be legally married and able to prove that your marriage is bona fide (genuine). This means providing evidence of your relationship, such as photographs, joint bank account statements, and letters from family and friends attesting to the legitimacy of your marriage.
Additionally, your partner must not have any criminal convictions or immigration violations that could make them ineligible for a green card. If your partner is currently in the U.S. without legal status, they may need to return to their home country and apply for a green card from there.
2. Hire an immigration lawyer
Navigating the immigration process can be challenging, especially if you're unfamiliar with the laws and regulations. An experienced immigration lawyer can help guide you through the process, advise you on the best course of action, and ensure you meet all the requirements.
A lawyer can also help you prepare the necessary documentation, such as the marriage certificate, affidavit of support, and other supporting evidence. They can also represent you and your partner in any interviews or hearings that may be required as part of the application process.
3. Understand the financial obligations
As the sponsor of your partner's green card application, you must demonstrate that you have sufficient income to support them financially. This means submitting an affidavit of support, which is a legally binding contract that obligates you to financially support your partner for a certain period of time.
The affidavit of support requires you to provide evidence of your income, such as tax returns and pay stubs, to demonstrate that you meet the minimum income requirements. If you don't meet the requirements, you may need to find a joint sponsor who can help you meet the financial obligations.
4. Be prepared for a long process
Obtaining a marriage-based green card can take several months to over a year, depending on various factors, such as the processing times at the USCIS (U.S. Citizenship and Immigration Services) and the embassy or consulate in your partner's home country.
During this time, your partner may need to remain in their home country until their green card is approved. Alternatively, they may be able to remain in the U.S. while their application is pending, but they may not be able to work or travel outside the country during this time.
5. Be aware of the costs
Getting a marriage-based green card can be expensive, with fees ranging from several hundred to several thousand dollars. In addition to the application fees, there may be costs associated with obtaining the necessary documentation, such as translations and notarizations.
Additionally, if your partner is required to return to their home country for an interview or to obtain their green card, there may be additional travel and accommodation costs.
6. Understand the implications of marriage
Getting married is a significant commitment, and it's important to understand the legal and financial implications of marriage before making the decision to tie the knot. This includes understanding your rights and responsibilities as a married couple and any potential tax implications.
Additionally, if your partner has children from a previous relationship, getting married can have implications for their custody and immigration status. It's important to discuss these issues with an experienced immigration lawyer before getting married.
7. Be prepared for cultural differences
If you're dating someone from another country, you're likely already aware of some of the cultural differences that may come with a cross-cultural relationship. However, it's important to be prepared for how these differences may manifest in a marriage and to approach them with patience, understanding, and a willingness to compromise. Marrying a person from another country solidifies many of those cultural differences and can be too much for some couples to overcome.
This may include differences in communication styles, social norms, religious beliefs, and attitudes toward family and relationships. It's important to have open and honest conversations about these differences and work together to find acceptable solutions to both partners.
Set Yourself Up for Success with a Qualified Legal Translation Service
At The Perfect Translation, our translators combine legal experience with language fluency to produce accurate legal translations efficiently and affordably. Our team understands the process the USCIS uses to review and process immigration applications, so they are positioned to best help your clients present their cases most favorably. Your documents will be translated correctly and formatted appropriately the first time to meet the USCIS requirements. Contact us today for more information and a free quote.