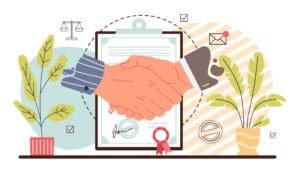 If you're tempted to send a contract to one of those mass translation services or do it yourself with automated software, you need to think twice.  Your clients may hold you responsible for translation errors, and here's why.
As an attorney, you likely outsource many tasks to subcontractors.  Doing so provides you with many benefits, including cost savings, delegation efficiency, and greater production ability.  Sending legal documents out for translation is necessary since there's little likelihood you have an attorney on your team that is fluent in both the source and target language of all your documents.  Today, a quick internet search will unveil a host of companies and software solutions that promise accurate translation of any legal document you need.
But what happens if they make a mistake?
Your first thought may be that, of course, the translator is liable for the accuracy of their work.  That may or may not be the case, depending on the contract and the subcontractor's performance.  To hold the translator liable, you typically must be able to prove that there was a breach of contract and that the translator was negligent in their work.
Was there a contract?  The bulk of translation work is assigned via email conversations, and there is often no contract at all.  While not impossible to litigate, it is more difficult to determine the specific expectations of the work to be performed to assess if the subcontractor breached the contract.
Was there a duty of care?  Typically, accuracy is assumed to be an essential requirement within the duty of care criteria.
Did the translator breach the duty of care?  Did the translator fail to perform the work to standards customarily performed by members of the translation profession?  Determining how many mistakes are acceptable and what kind of mistakes might be anticipated versus negligible may be difficult or impossible to ascertain.
Did the translation error actually and directly cause the injury?  Can it be proven that the specific error was the sole cause of the damage?  Would the negative result have occurred without the error?
Was there an actual loss?  Can you quantify the loss your client suffered?
Of these five criteria, the most difficult to prove are numbers 3 and 4:  did the subcontractor breach the duty of care, and was the translation error the sole cause for the injury your client suffered.  Without successfully proving these items, your client will likely look to you as the responsible party for the damage.
Many legal scholars and judicial representatives have recently published their opinions for "legal process outsourcing" or "LPO."  LPO includes all the work attorneys outsource to others, often to professionals who specialize in outsourced legal services; however, these standards apply regardless of who the work is given to.  In short, the responsibility can be summed up like this:  when a client hires you to perform a job, they expect that you are performing the work.  If you outsource the work to a subcontractor, you continue to be responsible to your client for the performance expectations of the job.
Here are some guidelines to help protect you and your firm from being held liable for translation errors:
While there's no sure-fire way to avoid potential liability, having good practices in place when choosing a subcontractor and assigning the work will help to set you up for success.
Outsource your legal translation work to professional translators who specialize in the subject matter.  As Thomas B. Mann said in his article, "Legal Translator Liability: Some Myths and Realities," "The ideal legal translator must be absolutely fluent in the source and target languages and must possess a deep understanding of the source and target laws and the differences between them."
Have a well-defined contract with reasonable timelines and clear expectations.  Asking for prompt work is acceptable, but asking for complicated work to be completed "yesterday" is more likely to result in errors that you could have avoided.  Include resources you will provide, such as glossaries and nuances the translator should be aware of.
Include a confidentiality agreement with the contract.  Make sure the subcontractor maintains best practices for confidentiality, including document and software security.
Screen your subcontractor well to ensure there are no conflicts of interest.  You want to rest assured there will be no appearance of bias or possible unethical behavior in completing the translation.
Don't drop your responsibility as supervisor.  Check-in on the work regularly.  Provide additional reference material as necessary.  Have the completed work reviewed by another individual to identify potential errors, inconsistencies, gaps, or other confusing terms.
When you're searching for a qualified professional to perform accurate legal translations, contact The Perfect Translation.
The Perfect Translation uses teams of language experts who have professional experience in the legal topics you're dealing with–from patents to contracts, disclosures, and advertising materials.  Don't leave your important translation work to computerized bots or generalized linguists.  Contact us today for a free quote and learn more about what makes The Perfect Translation the best place to get accurate legal translations.