The laws surrounding immigration applications, paperwork, and supporting documents are complicated–starting with whether or not the potential immigrant is afforded the same language accessibility rights as United States citizens.  Depending on the situation, the reality can vary greatly.  Here is just a brief overview to illustrate the complexity of these laws.
Are interpretation and translation services considered constitutional rights?
According to the Fifth and Fourteenth Amendments of the Constitution, no person should be "deprived of life, liberty, or property" without due process of law.  Two widely accepted components of due process include appropriate notice followed by the opportunity to be heard.  Interpretation and translation are requirements for foreign-speakers and limited English proficient (LEP) individuals to be accurately "heard."
It would seem that the Immigration and Nationality Act (INA) would include language accessibility within its immigration policy and procedures, but unfortunately, it neglects to address it at all.  Instead, it only instructs that non-citizens have a "reasonable opportunity" to examine the evidence against them and present evidence on their own behalf.
Other factors do address language accessibility for potential immigrants more clearly.  Executive Order 13166 provides some guidance regarding language access for affirmative asylum interviews before the U.S. Citizenship and Immigration Services (USCIS) and removal (deportation) proceedings before the Executive Office for Immigration Review (EOIR.)  Yet it still takes an experienced professional to discern what rights a potential immigrant has for interpretation and translation services and ensure the candidate is fully provided with them.
Another difference is whether or not the person is in the country or at an official port of entry.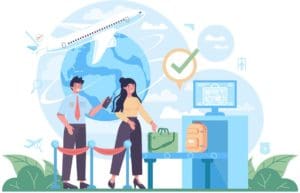 The Supreme Court has visited the question of constitutional rights provided to people illegally within our borders several times.  For example, the 1903 case, Yatamaya v. Fisher, determined that deportation procedures must conform to due process requirements.  Over half a century later, the Court clarified that "even one whose presence in this country is unlawful, involuntary, or transitory is entitled to…constitutional protection."  In other words, a non-citizen within the U.S. borders is guaranteed constitutional rights.  So, as long as the person has somehow gained entry across the border, the person is granted fundamental constitutional rights.
However, this clarification is tricky because it doesn't apply to those not yet admitted into the United States, even if they follow legal steps to gain entry.  Thus, a non-citizen who arrives at a port of entry and has not yet been approved to enter is not afforded those same rights at the border.  It seems counterintuitive that a person trying to enter the country via legal means is afforded fewer rights than someone who has crossed the border illegally. Still, our mismatched laws can be interpreted as so.
Asylum seekers are afforded additional rights.
Asylum seekers receive an enhanced level of protection.  Because asylum seekers are fleeing another country under fear of persecution, abuse, and often death, those that fit within the definition of "refugee" within the U.N. Protocol Relating to the Status of Refugees are provided with certain rights even if they would otherwise be considered deportable.  The situations that cause a person to seek asylum typically also expose them to trauma and mental stress, making it difficult for them to communicate clearly.  When a foreign language is in the mix, it can be next to impossible for an asylum seeker to accurately and clearly communicate the extent of their situation leading to the request for safety.  Unfortunately, it's often up to the asylum seeker to obtain and pay for their interpretation and translation services.
If you're working with potential immigrants to the United States, obtain the most accurate legal translation services from The Perfect Translation.
At The Perfect Translation, we combine industry expertise with language fluency to ensure your translated documents meet USCIS's requirements the first time.  With proven legal immigration experience, our attorneys know the laws and hold the qualifications to produce all the required applications and documentation correctly.  Our team of translators has proven experience working with the USCIS successfully to assist clients in obtaining immigration, naturalization, and citizenship status.  Contact us today for a free quote and let's get started on your project.