For non-English speaking parents, making sure their children receive a good education can be especially difficult.  Studies have shown that students who have involved parents are more likely to perform well academically than those with uninvolved parents.  Yet parents who cannot understand English are less likely to communicate with teachers, volunteer in the schools, and keep informed of their children's progress.
For children with learning disabilities, the problem is worse.  Direct parental participation in the development and implementation of an IEP increases the probability the plan will result in the student's academic success.
IEPs, or individualized education programs, are plans created by a team consisting of teachers, learning specialists, administrators, parents, and the student to provide specific learning assistance to place the student in a more equivalent learning environment with their peers.  For example, students with assessed learning disabilities such as dyslexia are provided with IEP plans that may offer a series of prescribed resources such as one-on-one tutoring, specialized software, or additional work time to help the student receive a fair and equitable education.  These plans tend to include very technical language that even native English speakers have difficulty understanding.  It's even confusing to determine which IEP documents require translation.
IDEA outlines requirements for non-English speaking students and parents.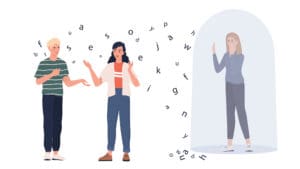 The IEP process is a bureaucratic process regulated by several laws, primarily the Individuals with Disabilities Education Act (IDEA).  There are a series of steps and parental consents for the school to assess the student's learning abilities, specific rules for meetings to discuss and agree to the assessment and prescribed accommodations, and deadlines for follow-up meetings and re-assessments.  Parents can quickly become overwhelmed with required notices of rights as well as IEP documentation specific for their child.
The IDEA requires the school to take whatever action is necessary to ensure that the parent understands the proceedings of the IEP Team meeting, including arranging for an interpreter for parents with deafness or whose language is other than English (CFR §300.322(e)).
The IDEA requires specific notices to parents be provided in the parent's native language unless clearly not feasible to do so.  These documents include:
The prior written notice provided to parents with a proposed change or rejection of a requested change in the identification, evaluation, or placement of a child with disabilities.
The IEP plan, upon request of the parents.
Any information that is relevant to an IEP related activity for which a parent must provide consent.
Procedural safeguards under the IDEA, which must be provided annually.
Yet, the IDEA does not require that the documents be translated into every language for every family's situation.  Instead, according to 34 CFR §300.322(e), the school district must take whatever action is necessary to ensure that the parent understands the proceedings of the IEP Team meeting, including arranging for an interpreter for parents with deafness or whose native language is other than English.  For those non-English speaking parents that can read fluently in their native language, providing written documentation when feasible is the best way to show adherence with the regulation, and it's a best practice to ensure schools and parents both have a historical record of meetings, plans, and outcomes.
Other requirements for IEP documents require translation.
The IDEA is not the only regulation that applies to these situations, however.  Title VI is a civil rights law prohibiting discrimination based on race, color, or national origin in any educational program or activity that receives Federal financial assistance (i.e., public schools.) In 2002, the Department of Justice provided guidance indicating that Limited English Proficient (LEP) parents must be provided with translated copies of "vital written materials" in the language of each frequently-encountered LEP group eligible to be served or likely to be affected by the school's program.  There are many accepted methodologies for determining what "frequently-encountered LEP groups" means for each school district.
"Vital written material" is based on the importance of the program, information, or content of the document itself.  For example, what would the consequences be to the LEP person if they don't have an accurate understanding of the material.  A student's IEP plan is sure to be considered a "vital written material."
Individual states may also have specific laws regulating educational services within their states.  School districts should have information to determine which IEP documents require translation in their programs.
Professional translation services help parents understand important documents.
With the abundance of technical terms and legal jargon in IEP plans and their related disclosures, it's essential that the most accurate translation be provided to LEP parents.  Various cultures have different expectations for education and communication styles, so a professional translator is needed to make sure all the critical information is shared in the best way for LEP parents to fully understand the program so they can provide optimal support for their child.
The Perfect Translation provides the most accurate translations of important documents because our team is comprised of individuals with expertise in the field as well as fluent in the target language.  We provide certified and notarized document translation services for all document types associated with industries such as immigration, business, real estate, financial, academic, legal, and medical.  Contact us today for a free quote!