For attorneys, every word of a document is critical.  Changing just one word or the punctuation of a sentence can change the meaning of an entire document.  Lawyers assist clients with foreign language needs from everything from immigration applications to international business contracts.  Hiring a legal translator or partnering with a legal translation service is a critical component of the services your firm provides to clients.
Do you need a translator or an interpreter?
Sometimes instructions will be provided to obtain a translator or an interpreter, but in reality, those are two very different professions.  Just as it's critical to obtain the best services to complete your work, you need to make sure you are hiring the right type of service to perform the duties for you.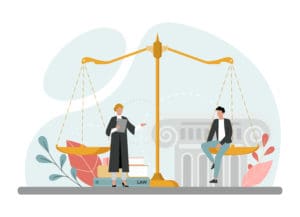 Interpreters are skilled at verbal communication.  They will quickly convert spoken words into a target language.  These professionals are often present for court hearings, doctor appointments, negotiations, and other in-person official events.  
Translators, on the other hand, are skilled at the written word.  They are able to accurately translate official documents from a source language to a target language.  Those with legal backgrounds like those at The Perfect Translation are experienced with the type of work they are translating.  This is important because they know when keeping the original formatting of a document is required, and how to describe terms accurately according to the laws of the target country.
What types of questions should you ask prospective translators?
Finding the right legal translator for your project is the first step in obtaining a complete and accurate translation of your legal documents.  Here are some questions you should ask:
What are their credentials or qualifications?

 Legal translators should have expertise in the legal field for the job as well as proficiency in both the source and target languages.  For example, to translate an English real estate document into Chinese, you will need a legal translator proficient in the precise dialect of Chinese your clients speak and with experience handling real estate transactions in their region.  If a court is requiring a legal translation, the court will likely also have requirements your translator must meet to be deemed credible.

Can they work with you at your location?

 It can be difficult to haul boxes of documentation to a translator's office and you may not want to have all the original documents stored outside your secure environment.  The job may be easier for both parties if the translator can complete their work on your premises.

Will they sign a nondisclosure agreement (NDA)?

  An NDA is a must if your work is confidential or contains proprietary information.  While professional translators have a code of ethics to maintain confidentiality, an NDA will give you the legal recourse you need if the translator divulges information about your project inappropriately. 

Can they complete the work in your timeframe?

  Translators are often managing multiple jobs at the same time.  Before hiring someone, make sure they agree to complete your work according to your timeline and due dates.  If you have a rush job, be clear about your expectations from the start.

Will they retain the formatting of the original document?

 Don't assume they will complete the work as you think they will in your mind.  Be clear about how you want the job performed so that you have a shared understanding of expectations.  If they aren't sure how to do the work as you expect, move on to another translation service.
Do you need to have the work double-checked?
It's not uncommon for an attorney to bring an original and translated version of a document to a third party to review the accuracy of the translation.  Many legal translation companies offer a verification service.  They should provide you with feedback about any errors and also feedback regarding the quality of the work.
The Perfect Translation is the solution when global businesses need professional translation.
At The Perfect Translation, our professional translators will work with your company to define a translation strategy to achieve a global presence.  Our translators combine language fluency with international business experience to provide you with the most accurate and effective translations to achieve your goals.
All of our translations are performed by pedigreed linguists holding a variety of certifications and degrees.  We are proud to provide certified and notarized document translation services for all document types associated with immigration, business, real estate, financial, academic, legal, and medical industries.  Contact us today for a free quote!