Securing a green card is a momentous milestone on the journey to the American dream. However, the immigration process can be complex, and delays can be frustrating and nerve-wracking for applicants. One of the best ways to avoid application processing issues is by working with a qualified legal translation service like The Perfect Translation. Yet, if you are met with obstacles, we present our advice for navigating green card processing delays based on our years of experience working closely with the United States Citizenship and Immigration Services (USCIS) and aiding clients with immigration documentation challenges. Simply put, we are your trusted ally on the road to immigration success.
Understanding Green Card Processing Delays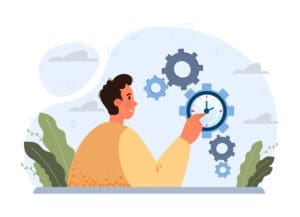 Green card processing times can vary based on the applicant's category, country of origin, and USCIS caseload. Delays can occur due to an array of reasons, including increased application volumes, additional background checks, or the need for further documentation. It is essential to stay informed and proactive during this time, ensuring that you comply with USCIS requirements while avoiding potential issues.
Regardless of how quickly you complete your application, it can often be frustrating to wait for your submitted documents to be processed. Before you become too concerned about a problem causing your perceived delay, you should be aware of the estimated wait times. Thus, our recommended first step in addressing green card delays is to become informed about current USCIS processing times. You can examine the current processing time for your type of application by visiting the USCIS website.
Delays in the green card processing journey can be disheartening and may lead applicants to wonder what steps they can take to overcome these obstacles. At The Perfect Translation, we understand that resolving these delays begins with a thorough understanding of the underlying reasons behind them. Our experienced team, well-versed in USCIS application filings, is committed to providing accurate and meticulous translations that align with the agency's stringent standards. By ensuring that your application is accurate and complete, we aim to prevent unnecessary delays and streamline your immigration process.
Expedited Processing Support
In some cases, you may be able to expedite the process. The USCIS acknowledges that certain immigration benefit requestors face pressing circumstances that necessitate prompt adjudication. This fast-track process enables USCIS to prioritize the requestor's benefit above others who filed their applications earlier. Nevertheless, it is essential to recognize that USCIS does not grant expedite requests lightly. Instead, each case undergoes a meticulous evaluation to ascertain its urgency and merit.
USCIS employs a comprehensive set of criteria when considering whether to accommodate an expedite request. The decision-making process revolves around the significance of the circumstances presented by the applicant. Among the factors USCIS takes into account are:
Genuine Emergencies: USCIS recognizes that emergencies can arise, compelling an applicant to expedite their request. These might include urgent humanitarian situations, critical medical needs, or cases involving imminent travel for medical treatment or family emergencies.
Expedited Government Interests: Certain applications or petitions might be deemed vital for national interests, public safety, or significant economic benefits. In these instances, USCIS may prioritize the expedited review.
USCIS Error: If an applicant can demonstrate that USCIS made a material error in the initial processing of their case, an expedite request may be warranted to rectify the situation promptly.
Severe Financial Loss: Applicants must substantiate claims of substantial financial loss that would arise due to delays in adjudication. These losses should be significant and directly related to the pending application.
Unique Situations: While not an exhaustive list, USCIS may also consider other compelling circumstances not covered explicitly in the criteria.
The Power of Translation Expertise
A crucial aspect of any green card application is the accuracy and completeness of its supporting documentation. USCIS holds strict standards for translations, demanding precise and certified translations of all relevant documents. Here at The Perfect Translation, we leave no room for errors, ensuring that our translations meet USCIS guidelines to the letter.
Our team of skilled translators possesses both the linguistic expertise and in-depth knowledge of immigration requirements. This allows us to deliver translations that not only preserve the original meaning but also adhere to the specific legal terminology required by USCIS. Our commitment to excellence ensures that your application package stands out, free from language-related discrepancies that might otherwise cause delays.
Maintaining Legal Status
Throughout the green card application process, it is essential to maintain legal status within the United States. Failure to do so can have serious consequences, potentially jeopardizing your chances of obtaining lawful permanent residency. To safeguard against any complications, applicants must remain in compliance with immigration laws and regulations until a final decision is made on their green card application.
Applying for Advance Parole
Advance Parole is a travel document issued by the United States Citizenship and Immigration Services (USCIS). It is designed specifically for applicants with pending green card applications who need to travel outside the United States for various reasons, such as family emergencies, work commitments, educational opportunities, or personal matters. Without Advance Parole, departing the U.S. while your green card application is pending could result in your application being considered abandoned, leading to potential complications upon your return.
By applying for Advance Parole, you ensure that your green card application remains active during your temporary absence from the United States. This travel document essentially serves as a protective shield, preserving the continuity of your application process. Upon your return, you can resume your life in the U.S. without any disruptions to your immigration status.
The Perfect Translation will help you avoid green card processing delays.
When facing green card processing delays, The Perfect Translation is your dedicated partner, equipped with unparalleled expertise in legal translations and USCIS procedures. Our goal is to ease your immigration journey, providing personalized guidance and support every step of the way.
As a leading legal translation company, The Perfect Translation specializes in supporting applicants throughout the green card journey. Our team of highly skilled and certified translators possesses a deep understanding of legal language and USCIS requirements. We have successfully assisted countless clients in overcoming immigration documentation challenges, and we are dedicated to providing you with a smooth and reliable experience. Contact us today for a free quote.