Demand for translation services by real estate professionals is growing, and one look at our economy shows why. The dream of homeownership has become more attainable for populations worldwide, and their desires to own a home abroad have grown immensely.  In 2020 in the United States, mortgage rates remained low putting the demand for homes at an all-time high.  For real estate professionals, having reliable and accurate translation services for foreign language real estate transactions documentation is absolutely critical.
According to the National Association of Realtors (NAR), $74 billion of real estate in the United States was purchased by foreign buyers between April 2019 and March 2020.  The leading country behind these purchases was China at $15 billion of investments.  With a strong economy reflected in a growing GDP, many Chinese citizens are choosing to invest their net worth in properties in the United States and Canada.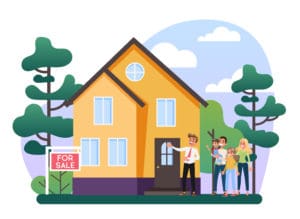 If you're working with international clients, here are some important considerations:
The need for accurate translation begins with simple marketing materials. Many of the American terms we use freely to discuss parts of our home don't have specific translations in other languages.  For example, "living room" or "bonus room" could easily be mislabeled using computer-generated language software.  By having a professional familiar with the lifestyles, customs, and terminology of the targeted language, foreign buyers will have a clear understanding of all details surrounding the property from the start.
On-demand and timely translation is critical during negotiations. All correspondence and written offers/responses require complete accuracy to ensure there are no misunderstandings about the deal that could disrupt or invalidate the contract later on.  Both buyers and sellers may be anxious to complete the deal, so having a trusted service by your side to provide quick results is important.
The complete bulk of legal documentation for the purchase must be translated into the foreign language. This includes all of the property documentation, bank documents, loan approvals, proof of funds, escrow documents, title work, etc.  All of these documents make up possibly the largest contract arrangement your clients will ever enter into, so it's critical that every detail is absolutely accurate.
For complete, accurate, and timely translation of foreign language real estate transactions, trust the professional services of The Perfect Translation.  We provide certified document translation services for all document types associated with industries such as immigration, business, real estate, financial, academic, legal, and medical.  Contact us today for a free quote and to learn more about how we can serve you.