In the United States, court proceedings are required to be held in English regardless of the native language spoken by either the plaintiff or the defendant. Managing a legal case involving foreign documentation does not need to be cumbersome work if you have a good process in place.  Here are a few recommendations from our team: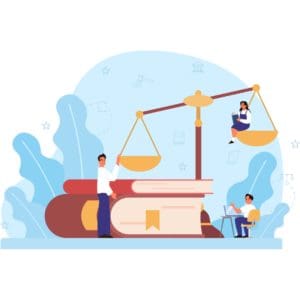 Be prepared out the gate. At the beginning of discovery, consult with your client to determine if there is reason to expect documentation in a foreign language.  If this is the case, your request for documentation should specifically include responsive documents in both the source language and English.
Get ready to search. Identify keywords relevant to your case in the source language to make automated searches of exchanged document databases more efficient.
Hire a professional translation service. Once you've received foreign-language documentation, have it professionally translated as soon as possible.  Be sure to request a declaration or affidavit attesting to the translator's qualifications and certification for each document that the English translation is true and accurate.
Get a head start. While you are waiting for the translations, consider getting an informal translation from a client representative fluent in the source language.  This should not be the information you rely upon for your case, but it can provide you with early indicators of additional items you want to request or questions to follow up on.
Be organized. As you receive your translated documents, create a methodical numbering system.  If you label a foreign document as "Trial Exhibit 5," then you should label the English Translation as "Trial Exhibit 5a" and the certification affidavit as "Trial Exhibit 5b."  This will not only keep your files straight but will help the jury review the documents during deliberations later on.
Avoid surprises. Review foreign documents with potential witnesses before you get to trial.  You don't want a witness on the stand to surprise you with a disagreement regarding your translation of a document.
Prepare jurors. Ease any potential concerns the jury might have about the foreign language involved in the case.  Add a few words during your voir dire to let the jury know all relevant documents have been translated into English and there is no need to try to decode the foreign documents.
Clarify that only translated documents should be considered. Point out your translations are certified for accuracy and instruct the jury to only consider the translated documents as is.  Jury members should not try to translate documents on their own or debate the validity of the translations.  Additionally, jury members should not give any documentation more or less credibility because of the source language it is written in.
If you are looking for a professional, certified translator for your project, contact our team at The Perfect Translation.  We are proud to provide certified and notarized document translation services for all document types associated with industries such as immigration, business, real estate, financial, academic, legal, and medical.