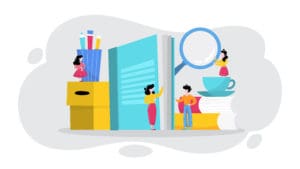 Employee handbooks contain critical policies for employee behavior and performance in your organization.  However, those policies are only as good as your team members understand them.  Non-English speaking employees or those with minimal understanding of the language will have difficulty understanding your expectations without an accurate translation, and legally the courts may not support your enforcement of policies without having your employee policy translated.
As of 2019, 22% of the US population spoke a language other than English at home. While many of those may also communicate in English, it's very likely a majority of these individuals do not understand English well enough to understand all the intricacies of employment policies.
Do laws require your employee policy translated?
Every state has its own set of laws regarding employment, with some being more liberal than others.  California is perhaps one of the most highly legislated, and almost half of its population speaks a language other than English at home:  44%, in fact.  Seven million Californians are recorded as speaking English "less than very well."  California requires specific employment policies to be translated into another language if that language is the "spoken language" for 10% or more of the company's population, including:
Policy against harassment, discrimination, and retaliation (including complaint and investigation procedures),
Family and medical leave (for employers with 50+ employees), and
Reasonable accommodation for employees disabled by pregnancy, pregnancy disability leave, or transfer.
A handful of other policies are recommended for translation in California because they are the most commonly litigated.  Remember, if the courts find an employee did not understand the policy, they may not see it reasonable that you held them accountable to it.  These policies include:
At-will employment,
Meal and rest breaks, and
Reasonable accommodation for persons with disabilities.
Even if your state's employment laws are less restrictive than California's, it's a good idea to have essential policies like these translated into languages that represent large populations of your employees.  Regardless of legal requirements, when employees can understand the rules of the job, they are much more likely to adhere to them.
If you have employee policies that require translation, The Perfect Translation can help!
Having enforceable employment policies in place is one way to reduce business risks associated with poor performance and employee negligence.  The Perfect Translation has professional translators who are proficient in the source and target languages and also have experience handling the type of work you need to have translated.  Our employment law experts will translate your policies and ensure they will be clearly understood by non-English speakers and accurately reflect your business' expectations.  Contact us today for more information.