If you've tuned into national news at any time over the past five years, you've likely heard this argument. This myth originates from many concerns, from perceived safety issues to "stealing" American jobs. In reality, it is not easy to immigrate to the U.S., which is why many people are calling for reform.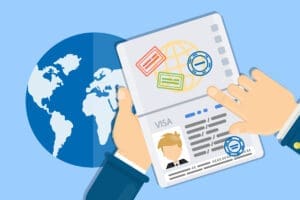 The United States has a long history of immigration, and immigrants have made significant contributions to the country's economy, culture, and society. However, the issue of immigration has also been a source of controversy and political debate, especially in recent years. One of the most persistent myths about immigration is that it is easy to immigrate legally to the U.S. and that the problem of illegal immigration could be solved if only undocumented immigrants "got in line" and followed the rules. In this article, we will debunk this myth and explain why the immigration system is not as straightforward as it may seem.
Debunking the Myth
First, it is important to understand that there is no single "line" to get in. The immigration system is complex and involves multiple pathways, each with its own requirements, quotas, and waiting periods. For example, someone who wants to immigrate to the US may be eligible for a family-based visa if they have a relative who is a US citizen or permanent resident. However, the wait time for this type of visa can be several years or even decades, depending on the country of origin and the level of demand. Similarly, someone who wants to come to the US for work may need to have a job offer from a US employer and meet certain qualifications, such as education, experience, and language skills. However, there are limits on the number of employment-based visas available each year, and certain occupations may be excluded or prioritized over others.
Furthermore, the immigration system is subject to frequent changes and updates, often in response to political or economic factors. For example, in 2020, the Trump administration implemented a series of restrictions on immigration, including suspending certain visa programs and imposing new requirements for visa applicants. These changes made it even more difficult for immigrants to come to the US legally and, in some cases, led to family separations, job losses, and other hardships.
Another factor that makes legal immigration difficult is the high cost and complexity of the application process. Immigrants may need to hire an attorney, gather extensive documentation, and undergo background checks and medical exams. They may also need to travel to a US embassy or consulate in their home country for an interview, which can be costly and time-consuming. Moreover, even if an immigrant can navigate the application process successfully, there is always the risk of denial or delay due to factors beyond their control, such as changes in the political or economic climate, or inconsistencies in the application process.
In contrast to these challenges, the decision to enter the U.S. illegally may seem like a tempting and practical solution for many immigrants, especially those facing persecution, violence, or economic hardship in their home countries. However, it is essential to recognize that crossing the border without proper documentation is a violation of U.S. law and can have serious consequences, including detention, deportation, and separation from family members. Moreover, the existence of undocumented immigrants can also create social and economic tensions, such as competition for jobs, strain on public resources, and fear of crime and terrorism.
Improvements to the Immigration Process
These challenges don't make it easy to immigrate to the U.S., causing many citizens and legislators to search for solutions in immigration reform. To address the issue of illegal immigration, it is necessary to have a comprehensive and humane immigration policy that balances the needs of immigrants, U.S. citizens, and the economy. Some proposals made for an improved immigration policy include measures such as:
Streamlining the immigration system to reduce waiting times, simplify the application process, and provide more transparency and accountability.
Creating more pathways for legal immigration, such as expanding family-based and employment-based visas and providing opportunities for refugees and asylum seekers.
Addressing the root causes of immigration, such as poverty, violence, and political instability in the countries of origin, through foreign aid, diplomacy, and other measures.
Providing a pathway to citizenship for undocumented immigrants already in the U.S. and contributing to their communities.
Ensuring that immigration enforcement is fair, just, and consistent with human rights standards and targets criminal activity rather than peaceful immigrants.
Ultimately, the idea that legal immigration is easy and straightforward is a myth that ignores the complex and often unpredictable nature of the immigration system. While it is important to promote legal immigration and discourage illegal immigration, this goal cannot be achieved by simplifying or restricting the system alone. Rather, it requires a holistic and compassionate approach that recognizes all immigrants' humanity and dignity and upholds the values of diversity, inclusion, and opportunity that have always been at the heart of the American dream.
Navigating the process begins with selecting a qualified translation service.
Regardless of the path someone takes to obtain legal citizenship, immigration to the United States requires extensive paperwork and applications. Selecting a professional translation service with experience working with the USCIS and navigating immigration law gets you on the right track for citizenship. While no one can make it easy to immigrate to the U.S., having a qualified partner with a proven track record at your side will help.
At The Perfect Translation, our translators combine legal experience with language fluency to produce accurate legal translations efficiently and affordably. Our team understands the process the USCIS uses to review and process immigration applications, so they are positioned to best help your clients present their cases most favorably. Your documents will be translated correctly and formatted appropriately the first time to meet the USCIS requirements. Contact us today for more information and a free quote.