Seeking an accurate translation? Consider this:
"Why do builders not produce a building or authors not invent a novel, since they do invent stories and plots?  No reason as far as dictionary definitions of words are concerned.  We don't say it because we don't say it."  (Bolinger and Sears, 1968)
Accurate translations are made more difficult due to the challenges of collocation.  Collocation can be defined as semantically arbitrary restrictions that do not follow logically from a word's propositional meaning. In other words, sometimes words that are literal matches in the strict definition do not make sense in the way they are used.
What are examples of common collocation errors?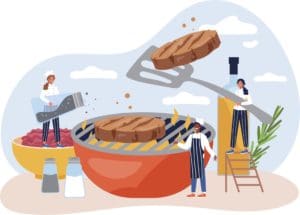 Take for instance, "grilling."  We all know what grilling is: cooking a food item on a grate above a heat source.  You can grill burgers, shish kabobs, or eggplant, for example.  Yet in the United States, we don't grill bread–we toast bread.  In technical terms, linguists describe this as "range": the words (ex: "burgers," "shish kabobs," eggplant") that are typically associated with the word in question (ex: "grill").
Collocation also impacts how the correct words change when prefixes are applied.  For example, in English, we might break the rules or bend the rules.  Yet, rules are not described as unbendable–instead, we describe strict rules as inflexible.
These mistakes are well known to most students who have studied a foreign language.  As novices attempt to use language dictionaries to translate sentences to an unfamiliar language, it's common to use a wrong word or term. Typically the teacher or person speaking the target language will understand the overall phrase well enough to inform the student of the correct term.
Automated translation software is frequently the cause of these errors in commercial or legal applications.  Although artificial intelligence (AI) in language translation is becoming more sophisticated, it is still far from accurate.  Using an online translator may be sufficient for personal communications to family living abroad, but they should not be relied upon for important work.
How do collocation errors impact professional work?
For professionals, collocation errors in translation can significantly impact a business, a transaction, or a contract.  In the least, collocation errors can make consumers in the target language feel a foreign-based company is incompetent or produces an inferior product.  A legal document can take on a different meaning in more serious situations to create unintended contractual elements or gaps.
Here are just a couple of "oops" companies had to deal with because of inaccurate translations:
When Braniff International created a slogan to promote the airline's newly upholstered seats, they meant to say "Fly in Leather," but the words translated into Spanish as "Fly Naked."
Pepsi debuted its slogan "Pepsi Brings You Back to Life" in China. Unfortunately, the translation meant "Pepsi Brings You Back from the Grave" to the native speakers.
The well-known American Dairy Association slogan, "Got Milk?" was erroneously translated for Spanish-speaking country into words that meant "Are You Lactating?"
How can you be sure you're getting an accurate translation?
Rely on professional services from The Perfect Translation when your work involves essential documentation.  Our translators aren't just proficient in languages; they understand the cultural nuances that impact how words are used in other countries.  We provide certified and notarized document translation services for all document types associated with industries such as immigration, business, real estate, financial, academic, legal, and medical.  Contact us today for a free quote!