In 2019, about 30,000 refugees were admitted into the United States.  In 2020, the COVID pandemic and US Title 42 placed additional restrictions on immigrants bringing the number down to just under 12,000 individuals. (Source: Migration Policy Institute)
When people think about immigration, they often think of refugees from Mexico or Central America. However, in 2020, only 8% of the refugees accepted into the United States were from Central America or the Caribbean–and over the past ten years, 75% of those have been from Cuba. Instead, significant numbers of asylum seekers originate from Africa, Asia, and Europe.
2020 Breakdown of Origins of Refugees Accepted into the United States:
| | | |
| --- | --- | --- |
| Origin | Number | Percent |
| Dem. Republic of Congo | 2868 | 24.3% |
| Myanmar | 2115 | 17.9% |
| Ukraine | 1927 | 16.3% |
| Afghanistan | 604 | 5.1% |
| Iraq | 537 | 4.5% |
| Syria | 481 | 4.1% |
| Eritrea | 475 | 4.0% |
| Moldova | 364 | 3.1% |
| Sudan | 254 | 2.1% |
| All other countries, including unknown | 1824 | 15.4% |
What paperwork do asylum seekers need to have translated?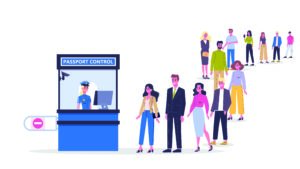 Individual asylum seekers need to illustrate their cases clearly and swiftly.  Often, these individuals approach or cross the border with a stack of documentation, including national identification cards, birth certificates, school records, political party membership letters, death certificates, sworn statements, police reports, and personal emails and messages.  The first stage may involve simply persuading US Customs and Border Protection (CBP) officers to refer the individual to asylum officers rather than expelling them.  The next step is achieving asylum status and successfully being admitted to the U.S.
What are the challenges in providing accurate translations for asylum seekers?
First, qualified translators must wade through the stack of documents to identify, prioritize, and accurately translate many official documents.  Having experience with official records in the source language will ensure the information is accurately translated into English within the correct format.
Second, many of the documents are meant to make a case for asylum and are filled with information and stories of brutality and violence.  Professional translators must thoroughly read and provide accurate translations of each document in a non-biased manner.  In many cases, this means communicating accurate depictions of the imagery within the documents and making the messages understandable without losing the original grammar and punctuation substantially.
The Perfect Translation will Provide Accurate Translations of Your Client's Immigration Documents.
The Perfect Translation provides certified document translation services for all document types associated with industries such as immigration, business, real estate, financial, academic, legal, and medical.  Our translators are qualified to provide legal translations to meet the requirements of the U.S. Citizenship and Immigration Services (USCIS).  Each document is accompanied by a certification statement attesting to the translators' competency for the translation.  We are so confident about our services that we offer a 100% guarantee our certified translations will be accepted upon submission to the USCIS.  Contact us today for a free quote.